《USGTF 新闻资讯》2022年4月期刊
10/05/2022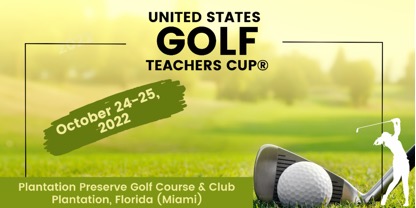 第 26 届年度美国高尔夫教练杯赛场确定
US CUP VENUE NAMED
Plantation Preserve Golf Course and Club in Plantation, Florida, will host the 26th annual United States Golf Teachers Cup on Monday and Tuesday, October 24-25, 2022. The course is one of the finest public facilities in the South Florida area and is situated just west of Fort Lauderdale. More information will be made available soon. Please consult our monthly e-newsletters or www.USGolfTeachersCup.com.
位于佛罗里达州种植园保护区高尔夫俱乐部将于 2022 年 10 月 24 日至 25 日(星期一和星期二两天)举办第 26 届年度美国高尔夫教练杯。该球场是南佛罗里达地区最好的公共设施之一,位于 劳德代尔堡以西。 更多信息请查阅我们的www.USGolfTeachersCup.com。

MASTER GOLF TEACHING PROFESSIONAL CLASSES ANNOUNCED
大师级高尔夫职业教练认证课程预告
The Master Golf Teaching Professional® designation is the highest one can achieve in the USGTF. Classes will be held June 13-15 in Las Vegas, Nevada, and November 14-16 in Fort Pierce, Florida. The classes are open to all Certified Golf Teaching Professionals® in good standing who have been certified for a minimum of 12 months. Attending one of these certification classes is extremely educational for all involved, and successfully attaining the designation has proven to be a boon for many who have earned the Master title. More information can be obtained by calling the USGTF National Office at (772) 88-USGTF.
Master Golf Teaching Professional®(大师级高尔夫职业教练) 称号是 USGTF 所能达到的最高级别。 课程将于 6 月 13 日至 15 日在内华达州拉斯维加斯举行,以及11 月 14 日至 16 日在佛罗里达州皮尔斯堡举行。 这些课程向所有已获得认证至少 12 个月以上的且信誉良好的高尔夫职业教练开放。 参加这些认证课程对所有相关人员都极具教育意义,并且大师头衔已被证明对许多教练来说是一个福音。 如需更多信息,请致电 (772) 88-USGTF 联系 USGTF 国家办公室。
CANADA GOLF READY TO ROCK AND ROLL INTO NEW SEASON
加拿大高尔夫已准备好迎接新赛季
Our neighbor to the north, Canada, has the misfortune to have a shorter season than those of us in the United States, but the high quality of the courses more than makes up for any perceived lack of playing time! World-class venues abound in all provinces, and the Canadian Golf Teachers Federation has members in each province making their mark on the golf teaching industry. The CGTF's online courses have proven to be extremely popular. More information on the CGTF can be found at www.CGTF.com.
不幸的是,我们北部的邻居加拿大的打球季比我们在美国的短些,但好在高质量的球场足以弥补这些打球时间的不足! 世界级的球场遍布加拿大所有省份,加拿大高尔夫教练联盟在每个省份都有会员在高尔夫教学行业。 事实证明,CGTF 的在线课程非常受欢迎。 有关 CGTF 的更多信息,请访问 www.CGTF.com。
NORTHEAST REGION CHAMPIONSHIP UP NEXT
2022赛事预告:东北地区锦标赛将于六月进行
Northeast: The 2022 Northeast Region Championship will be held Thursday, June 16, at Mountain View Golf Course in Ewing, New Jersey. The entry fee is $185. For more information and to enter, please contact region director Bob Corbo at simductivegolf@gmail.com.
东北地区:2022 年东北地区锦标赛将于 6 月 16 日星期四在新泽西州尤因的山景高尔夫球场举行。入场费为185美元。欲了解更多信息请通过 simductivegolf@gmail.com 联系区域总监 Bob Corbo。
Central: The 2022 Central Region Championship will be held at the City of Mason Golf Center in Mason, Ohio, July 31- August 1. This course hosted the PGA Tour Champions Kroger Classic for almost 20 years; a fair and challenging course from all tees. The champion will have to play two solid rounds to be crowned here! The entry fee of $220 includes 18 holes and cart each day, range balls, skins game and prize fund. Tee times will start at 12:10 p.m. each day. The course is approximately 20 minutes north of Cincinnati, and 40 minutes north of the Greater Cincinnati Airport. It is a straight drive up I-71 with plenty of hotels and food in the area. For more information or to register, contact Central Region director Tony McMullin at tmcmullin72@yahoo.com.
中部地区:2022 年中部地区锦标赛将于 7 月 31 日至 8 月 1 日在俄亥俄州梅森市的梅森市高尔夫中心举行。这是一个所有发球台的公平且具有挑战性的球场,该球场举办了近 20 年的美巡赛冠军克罗格精英赛,选手必须打两轮才能在这里加冕冠军! 220 美元的报名费包括每天 18 洞和球车、练习场、娱乐赛比赛和奖金。开球时间将从下午 12:10 开始。每天。该球场距辛辛那提以北约 20 分钟路程,距大辛辛那提机场以北约 40 分钟路程。沿着 I-71 公路直行,该地区有很多酒店和美食。如需更多信息或注册,请通过 tmcmullin72@yahoo.com 联系中部地区总监 Tony McMullin。
Southwest: Festivities for the 2022 Southwest Region Championship will be held Friday-Sunday, September 9-11, at Twin Creeks Golf Club in Allen, Texas. There will be a welcome dinner the Friday evening, with two rounds of tournament play commencing Saturday. The entry fee is $225 and includes range balls. For more information and to enter, contact region director Bruce Sims at bsims@pga.com.
西南地区:2022 年西南地区锦标赛的庆祝活动将于 9 月 9 日至 11 日星期五至星期日在德克萨斯州艾伦的双溪高尔夫俱乐部举行。周五晚上将举行欢迎晚宴,周六开始有两轮比赛。入场费为 225 美元,包括练习场的费用。如需更多信息请通过 bsims@pga.com 联系区域总监 Bruce Sims。
To learn more about these and other USGTF member events, visit www.USGTF.com and look under the Stay Informed section for Tournaments.
要了解有关这些和其他 USGTF 成员活动的更多信息,请访问 www.USGTF.com。
UPCOMING CERTIFICATION COURSES:
即将举行的认证课程:
新泽西州普林斯顿 – 5 月 2 日至 6 日   Princeton, NJ – May 2-6
内华达州拉斯维加斯 – 5 月 16 日至 20 日   Las Vegas, NV – May 16-20
印第安纳州埃文斯维尔 – 5 月 16 日至 20 日  Evansville, IN – May 16-20
佛罗里达州皮尔斯堡 – 6 月 20 日至 24 日    Fort Pierce, FL – June 20-24
内华达州拉斯维加斯 – 7 月 11 日至 15 日    Las Vegas, NV- July 11-15
Please click here to learn more about these courses.
请点击这里查看更多课程。
Foreign Language Courses:
外语培训课程预告:
Dallas, TX – May 19-22 德克萨斯州达拉斯 – 5 月 19 日至 22 日
Hoffman Estates, IL – June 11-14 伊利诺伊州霍夫曼庄园 – 6 月 11 日至 14 日
Please click here to learn more about these FLC courses.
请点击这里查看有关这些 FLC 课程的更多信息。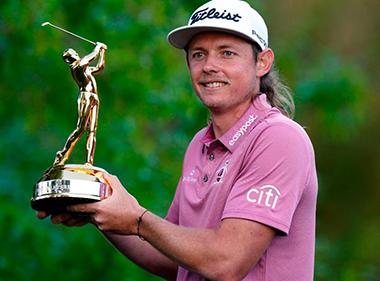 TOUR "PRO" FILE – CAMERON SMITH
职业球员档案-卡梅隆·史密斯
Up until recently, Australia's Cameron Smith could have passed for a high school golfer with his extremely youthful looks. But with his recent victory at The Players, there is no mistaking him for a high schooler any more. Smith has emerged as one of the stars of the game, currently ranked #6 in the world. At The Players, he held off the game's best in scoring his biggest win to date.
直到最近,澳大利亚的卡梅隆·史密斯(Cameron Smith)还可以凭借他极其年轻的外表被误认为是一名高中高尔夫球手。但随着他最近在球员锦标赛( The Players)取得胜利,再也不会把他误认为是一名高中生了。史密斯已经成为高尔夫明星之一,目前在世界排名第 6。在球员锦标赛他取得了迄今为止他最大的胜利。
Smith now has five PGA Tour wins, but his career got off to a slow start. As a rookie in 2016, he finished 157th on the points list and had to re-earn his card. His breakthrough came the following year when he partnered with Jonas Blixt to win the Zurich Classic of New Orleans, a team event, for his first official Tour victory. Since then, it has been a steady progression of solid play with the occasional win thrown in for good measure. Smith is now the highest-ranked Australian over fellow luminaries such as Adam Scott and Marc Leishman. He is certain to be a fixture on the international squad at the Presidents Cup for years to come, and it would surprise no one if he were to win a major championship sometime soon.
史密斯现在有五场美巡赛冠军,但他的职业生涯开局缓慢。作为 2016 年的新秀,他在积分榜上排名第 157 位,他不得不重新获得参赛卡。次年,他与乔纳斯·布利克斯特(Jonas Blixt)合作赢得了苏黎世新奥尔良精英赛,这是一项团体赛事,是他的第一次正式巡回赛的胜利。从那时起,他一直在稳步前进,偶尔也会取得胜利。史密斯现在是排名最高的澳大利亚人,超过了亚当斯科特和马克利什曼等名人。他肯定会在未来几年成为总统杯国际阵容中的一员,当然他如果很快赢得大满贯冠军也不会让人感到意外。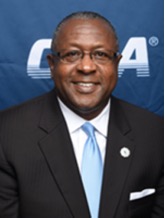 TEACHING "PRO" FILE – ANDRE SPRINGS
职业教练档案 – 安德烈斯普林斯
USGTF professional Andre Springs' introduction to golf came when his uncle took him to the golf course in North Carolina to help him pick up range balls when a young Andre was just 5 years old. He remembers seeing how well dressed the golfers were and the fact that they appeared to have money, and that appealed to the youngster.
USGTF 职业教练-安德烈·斯普林斯 (Andre Springs) 开始接触高尔夫是在年仅 5 岁时,他的叔叔带他去北卡罗来纳州的高尔夫球场,帮助叔叔捡球。他看到高尔夫球手穿着得体,他们似乎很有钱,这对年轻人很有吸引力。
Springs wound up picking up range balls through his senior year in high school, as well as getting playing privileges and developing a great golf game. Although he was cut from his team in 8th grade, in 9th grade he not only made the team, but was the Most Valuable Player. He earned a scholarship to Fayetteville State University in Fayetteville, North Carolina. While there, he led his team to four Central Intercollegiate Athletic Association conference championships and earned NAIA all-American status.
斯普林斯在高中最后一年开始捡球的工作,并获得了打球的特权,成就了一场精彩的高尔夫比赛。虽然他在 8 年级就被球队淘汰了,但在 9 年级的时候,他不仅入选了球队,而且成为了最有价值球员。他获得了北卡罗来纳州费耶特维尔州立大学的奖学金。在那里,他带领他的团队拿到了四次中央校际体育协会会议冠军,并获得了 NAIA 全美资格卡。
His success led him to be named the head golf coach at Livingstone College in Salisbury, North Carolina, in 1979 at the age of 20. His first year, he dismissed everyone from the team except for one player, as most of the team did not take practice or the game seriously. Within a short time, Springs' teams had won five conference championships and three national championships in the National Minority College Championship (now known as the PGA Works Collegiate Championship). He left to go to Cleveland, Ohio, where he became the first black general manager in the city's golf course system, at Highland Park. He then moved back to his hometown in North Carolina, Charlotte, where he met Johnny Harris, owner and president of the famed Quail Hollow Golf Course. Harris was in the process of building a new course, Birkdale, and he offered Springs a job. When Birkdale opened, Springs caddied that day for Arnold Palmer, the course designer. Harris eventually named Springs the head teaching professional at Birkdale. And by the way, while there, Springs fired a 66 which established the course record.
他的成功使他在 1979 年 20 岁时被任命为北卡罗来纳州索尔兹伯里利文斯通学院的首席高尔夫教练。他的第一年,除了一名球员外,他解雇了球队的所有人,因为球队的大多数人都没有认真对待练习或比赛。在很短的时间内,斯普林斯的球队在全国少数民族大学锦标赛(现称为 PGA Works Collegiate Championship)中赢得了 5 次交流锦标赛的冠军和 3 次全国冠军。他离开去俄亥俄州的克利夫兰,在那里他成为该市高尔夫球场系统的第一位黑人总经理,位于高地公园。然后他搬回了他在北卡罗来纳州夏洛特的家乡,在那里他遇到了著名的鹌鹑谷高尔夫球场的老板兼总裁约翰尼哈里斯。哈里斯正在开设一门新课程,伯克代尔,他为斯普林斯提供了一份工作。当伯克戴尔开业时,斯普林斯当天为球场设计师阿诺德帕尔默担任球童。哈里斯最终任命斯普林斯为伯克代尔的首席教学专家。顺便说一句,在那里,斯普林斯打出了 66 杆,创造了球场记录。
Proving that life sometimes comes full circle, Springs was asked to once again coach the Livingstone golf program in 2010. He also became the school's athletic director, a position he left in 2016. Today, his Livingstone golf team is ranked #1 in Division II among the Historically Black Colleges and Universities in the nation. Springs says he is lucky to have a president at the college who plays and appreciates golf and offers full support, and lists it as an important reason why he and his teams have been so successful at Livingstone.
证明生活有时会回到原点,斯普林斯被要求在 2010 年再次执教利文斯通高尔夫项目。他还成为了学校的体育主管,他于 2016 年离开了这个职位。今天,他的利文斯通高尔夫球队在二级联赛中排名第一在全国历史悠久的黑人学院和大学中。斯普林斯说,他很幸运在大学有一位喜欢打高尔夫球并提供全力支持的校长,并将其列为他和他的团队在利文斯通如此成功的重要原因。
STUDENT SPOTLIGHT – AJGA TOUR
AJGA巡回赛明星学生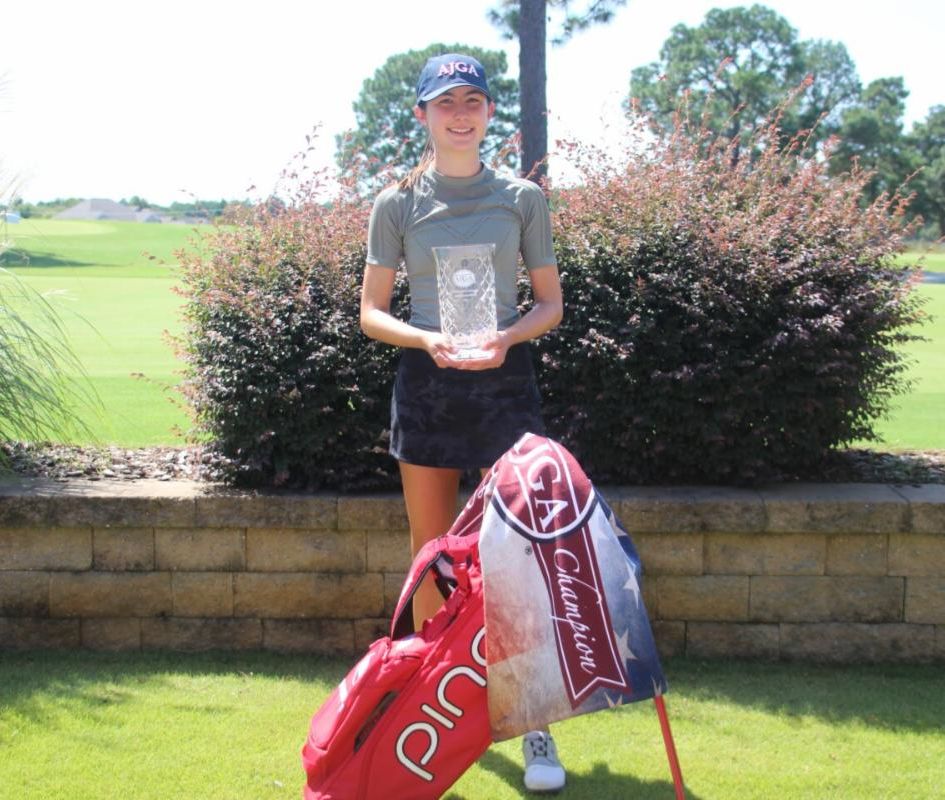 USGTF members teach players of all abilities, and some are teaching and coaching elite junior players. The place to play for the best junior players is with the American Junior Golf Association, better known as the AJGA. Most current PGA and American LPGA Tour players competed on this circuit, which is run very much like a professional tour. Tiger Woods, in his acceptance speech at his recent World Golf Hall of Fame induction ceremony, mentioned how his mom and dad took out a second mortgage on their home so a young Tiger could compete on the AJGA.
USGTF 会员教授各种能力的球员,有些人正在指导精英少年球员。最好的青少年球员都在美国青少年高尔夫协会的比赛,也就是众所周知的 AJGA。大多数当前的 PGA 和美国 LPGA 巡回赛球员都曾参加过这个赛事,这个赛事已经非常接近职业巡回赛。老虎伍兹在最近的世界高尔夫名人堂入职仪式上的演讲中他提到,他的父母为了年轻的老虎可以参加 AJGA 比赛,申请了第二次住房抵押贷款。
Today, golfers whose families lack the financial means to allow them to compete at this level may take advantage of the AJGA's ACE Grant program. In order to compete on the circuit itself, players must be successful in other venues such as state, regional and national events in order to earn playing status with the AJGA, which is based on player merit. For more information on the AJGA, please visit www.AJGA.org.
现在,缺乏经济能力的高尔夫球手可以利用 AJGA 的 ACE Grant 计划参加这一赛事的。为了在巡回赛上竞争,为了获得 AJGA 的参赛资格,球员必须在其他州、地区和国家赛事中取得胜利才可以,这取决于球员的比赛成绩。有关 AJGA 的更多信息,请访问 www.AJGA.org。
WILSON GOLF – LONGTIME INDUSTRY PARTNER
威尔森高尔夫-长期合作伙伴
Wilson Golf, one of the oldest and most revered names in golf, has been an industry partner with the USGTF for almost three decades, and has been a trusted source for USGTF members to find and play quality equipment. The company is offering preferred pricing for all USGTF members. If you are interested in Wilson Golf products, please contact Mike Salvano at (800) 622-0444 ext. 6634 or mike.salvano@wilson.com.
威尔森高尔夫是高尔夫界历史最悠久、最受尊敬的品牌之一,近 3 年来威尔森高尔夫一直是 USGTF 的合作伙伴,并且一直是 USGTF 会员寻找和使用优质设备的可靠来源。 该公司为所有 USGTF 会员提供优惠价格。 如果您对威尔森高尔夫产品感兴趣,请致电 (800) 622-0444 分机与 Mike Salvano 联系。 6634 或 mike.salvano@wilson.com。

EDITORIAL – COMMON PROBLEMS AMATEUR GOLFERS HAVE THAT PROS DON'T
编辑精选 – 业余高尔夫球手相较职业球手最常见的问题
By: Mark Harman
作者:马克哈曼
When it comes to the difference between amateur and pro golfers, there isn't one category that amateurs, as a whole, do better in than does a typical tour pro. But some differences are more glaring than others. And believe it or not, there are categories where amateurs are not that far away in comparison to a tour pro. So let's highlight the good news first.
当谈到业余高尔夫球手和职业高尔夫球手之间的区别时,业余爱好者从总体来看没有比巡回赛中的职业选手做得更好。但有信不信由你,与职业球手相比,业余选手的差距并不是很大。因此,让我们先看好的一面。
Driving accuracy. Every golf course has its share of "old-timers" who wear out fairways. In fact, statistical analyses show that scratch golfers actually hit a greater percentage of fairways than does a typical PGA Tour pro. This might be written off that this is because a pro golfer hits the ball farther and therefore the margin of error is less, and there is some validity to this, but pros also tend to play on fairways that have been firmed up for the week, leading to bounces that might go further sideways. Also, there is a tendency among tour pros these days, thanks to the analytics provided by statistical gurus such as Mark Broadie (Inventor of the strokes-gained metric), to play more aggressively since data show that aggressive play tends to be rewarded more than conservative play. But on the whole, there are indeed many amateur golfers who can hit a greater percentage of fairways than can an average tour pro.
一号木的精度
每个高尔夫球场都有对球道非常熟悉的 "老前辈"。事实上,统计表明,有些业余高尔夫球手击球的上球道率比PGA 巡回赛职业选手都要高。但是职业高尔夫球手开球距离更远,失误率更低,基于这个理论,职业高尔夫球手倾向于保持稳定的击球。此外,数据显示,如今职业球手有一种趋势采用激进的比赛风格往往会获得更多的回报,当然,这要感谢马克·布劳迪(Mark Broadie哥伦比亚大学的教授,击球数据分析模型的发明者)等统计专家提供的分析方法。但总的来说,确实有很多业余高尔夫球手可以打出比普职业球员更高的上球道率。
Putting: Broadie's statistics show that for every six strokes in difference in skill level, there is a one-stroke difference in putting prowess. In other words, a typical tour pro, who has a handicap index of approximately +6, putts only one stroke better per round than does a scratch golfer, two strokes better than a 6-handicapper, three strokes better than a 12-handicapper, etc. This means that yes, there are single-digit handicappers who putt as well as an average tour pro day in and day out. There are also probably some low double-digit handicappers who can put as well as the worst putters on the PGA Tour, and there are days that even 20-handicappers can putt as well as a tour pro. So the difference in putting isn't all that great between the tour pro and good amateur golfers.
推杆
布劳迪教授的统计数据显示,每 6 次推杆就会出现 1 杆的技术水平差异。换句话说,一个差点大约为+6巡回赛职业选手,他的推杆只比业余球手好一杆,比差点为6的业余选手好两杆,比差点为12的选手好三杆,以此类推。这意味着,一个单差点业余球员日复一日地练习推杆又可能达到巡回赛职业选手的平均水平。还有一种可能,有些两位数的差点球手推杆和最差的巡回赛中职业选手推杆数是一样的,甚至于,即使是 20 位差点的推杆也可以像巡回赛职业选手一样的推杆水准。因此,职业高尔夫球手和优秀的业余高尔夫球手在推杆上的差异并不是那么大。
Now, let's highlight the not-so-good news.
现在我们要说说有哪些不足的地方
Distance. PGA Tour pros average approximately 296 yards off the tee. While it is a myth that "everyone" on tour can fly it 300 yards, the fact is that statistics show the average scratch golfer can drive the ball about 255 yards. This might seem low, but it has been well-founded in research. Remember, when we talk about average, we are talking about poor drives being thrown into the statistical mix, too. So it's probable that the average male scratch golfer hits it about 265 or so on a good hit. There is about a 30-yard difference between what an average PGA Tour pro can do compared to a scratch golfer. That 30 yards times 14 drives adds up to a course that effectively plays 420 yards longer for a scratch golfer, not to mention longer clubs into the greens.
距离
美巡赛职业选手平均一号木发球距离296 码。 虽然巡回赛中的"每个人"都可以将球打出 300 码是一个神话,但事实是统计数据显示,普通的业余高尔夫球手可以将球击出大约 255 码。 这虽然可能看起来很低,但它来自于可靠的统计数据。 请记住,当我们讨论平均水平时,我们也会将一些糟糕的数据纳入统计。 因此,一般男性业余高尔夫球手可能会击出大约 265 码左右的击球距离。 与普通高尔夫球手相比,普通 PGA 巡回赛职业选手的表现大约只有 30 码的差异。 30 码乘以 14 次开球加起来,对于参加一场完整比赛的高尔夫球手来说,相差的距离总共是 420 码,更不用说还有更长的距离的球场了。
Greens in regulation. Studies have shown that an increase or decrease in one green in regulation, on average, equals to a difference of about two strokes on the scorecard. In other words, a golfer who averages 11 GIR will average about two strokes lower than someone who averages 10 GIR. A typical tour pro hits 12 greens in regulation, which translates into a scoring average of about one under par. Let's say a scratch golfer typically plays on a course rated at 72.0, meaning he will average about 74 (because handicap indexes are based on the best 8 out of 20 rounds, a scratch golfer will typically average about two strokes worse than his handicap index). This means that on this course, assuming the par is 72, a scratch golfer will hit about 10.5 GIR. Skill level obviously plays a factor, but so does distance, as a +5 index golfer will have typically much shorter distances into the hole.
果岭
研究表明,在相同规则中,果岭上的成绩差异平均也就两杆上下。 换句话说,平均 11 GIR(上果岭率) 的高尔夫球手将比平均 10 GIR 的高尔夫球手平均低两杆。 一个巡回赛职业球员在常规赛中打出 12 个标准ON,这意味着平均杆数低于标准杆 1 杆。 假设一个高尔夫球手在一个72杆的球场上打球,这意味着他的平均杆数约为 74(因为差点基于 20 轮中最好的 8 轮计算,所以业余高尔夫球手的平均杆数通常比他差点相差大约两杆) . 这意味着在这个球场上,假设标准杆为 72 杆球场,一名业余高尔夫球手将击出大约 10.5 GIR。 技术水平是一个因素,但距离也是一个因素,因为 差点为+5的高尔夫球手通常击球距离要远得多。
Short game. The average tour pro gets the ball up and down on a missed GIR just under 3 out of 5 times. Average amateur golfers will fare well less than this, even though their putting prowess may not be that far away from a tour pro's. Their chips and pitches will usually not leave them in easy one-putt range, while the tour pro does this with regularity.
短杆
平均而言,巡回赛职业选手在 5 次中有3 次标准ON机率。 普通业余高尔夫球手的平均表现远低于此,即使他们的推杆能力可能与巡回赛职业选手相差不远。 他们的切杆和劈杆通常不能到达使他们轻松的一推范围内,而职业球手则可以。
Mental approach. Most tour pros have consulted with or are working with a sports psychologist or other mental coach. Most amateur golfers don't. When a tour pro hits a good shot, he or she typically affirms to themselves that this is normal for them, while amateurs often consider themselves "lucky" to pull off a good shot. Conversely, a tour pro recognizes that a bad shot is not normal for them, while most amateurs have a "yep, that's me" outlook. While there are other differences, self-image between tour pros and amateurs tends to be like night and day.
心理方面
大多数巡回赛职业球员都咨询过或正在与运动心理学家或其他心理教练合作。而大多数业余高尔夫球手都没有。当巡回赛职业选手击出一杆好球时,他们通常会向自己确认这是正常的,而业余爱好者通常认为自己能打出一杆好球是"幸运"的表现。 相反,巡回赛职业选球手糟糕的击球对他们来说是不正常的,而大多数业余爱好者都有"是的,那就是我水平"的看法。 虽然还有其他的差异,但巡回赛职业球员和业余爱好者之间的自我意识方面往往像白天和黑夜一样区别甚大。
One-way vs. two-way miss. When tour pros mishit a shot, they tend to hit it primarily either left or right. Amateurs tend to miss equally both ways, with the possible exception of slicers. Turning a two-way miss into a reliable one-way miss is one of the fastest ways to cut a few shots off an amateur's score. This is where competent instruction becomes critical. The aim of a good lesson is obviously to make the player a better ball striker, but part of that means developing a reliable miss so that strategy can be effectively planned.
一种失误与两种失误
当巡回赛职业球手击球出现失误时,他们会倾向于使用一种向左或向右击球方式解决问题。 而业余爱好者往往不会这样做,右曲选手除外。 将双向失误变成可靠的单向失误是减少业余选手杆数的最有效的方法之一。 这是合格的教学指导至关重要的地方。 一堂好的教学显然是能让球员成为一名更好的击球手,但其中一部分也是让他能够找到可靠的失误在哪里,以便击球时有效地计划策略。
Time. Since it's their job, tour pros can literally spend all day, if they desire, playing and practicing golf. Most amateurs do not have this luxury, and if they do, they have neither the energy or motivation to do so. Besides developing a reliable one-way miss, one of the surest ways to get better at golf is simply to do it more.
So, there you have the reasons why an amateur doesn't do as well as a pro, and we didn't even mention talent. Talent obviously plays a role, but that's really something that cannot be controlled. Amateurs, however, have tools to close the gaps that differentiate themselves from tour pros, and competent instruction from any USGTF member is a good way to start.
时间
职业球员打球是他们的工作,只要他们愿意,职业球员可以花一整天时间打球和练习高尔夫。 而大多数业余爱好者没有这么奢侈的空闲,即使有,他们也没有精力或动力这样做。 除了发展可靠的单向失误之外,提高高尔夫水平的最可靠方法之一就是多打。
所以,这就是为什么业余选手不如职业球手的原因,我们甚至都没有提到天赋。 天赋显然起了作用,但这确实是无法控制的。 然而,业余爱好者是有工具可以缩小他们与巡回赛职业球员之间的差距,任何 USGTF 教练都可以帮助你现在开始做的更好。